Oh, the joys of "bleisure"!
If you're not familiar with the term, it's a combination of business and leisure, and it's all the rage these days. Basically, it means you get to mix a little bit of work with a little bit of play, by incorporating a vacation into a business trip.
After being stuck at home for so long during the pandemic, I felt a strong desire to explore new places and experience new cultures. I wasn't content to just sit at home anymore, and I wanted to take advantage of the opportunity to see more of the world. I started planning my travels and researching destinations, and I couldn't wait to get out there and start exploring. The pandemic had made me appreciate the value of travel even more, and I was eager to make the most of my newfound freedom to roam.
I also knew I could work from anywhere.  I had been running my business from home for the past 20 years.  I recently learned that "Bleisure" is a term used to describe the combination of business and leisure travel, where an individual combines work-related travel with the opportunity to explore a destination for leisure purposes.
Although I was eager to travel, my responsibilities as a mom to a teenager and my business commitments limited the amount of time I could be away. 
I was fortunate that my teenager had enjoyed and excelled at online learning during the pandemic, so after careful consideration and consultation with her father, my ex-husband, we decided to enroll her in online high school. This allowed her and I the flexibility to travel and explore new places while still ensuring that she received a high-quality education. At first, my boyfriend was hesitant about traveling with us, but since he has the ability to work from anywhere, I was able to convince him to come along.
I have always had a deep love affair with the state of California. There is something about the golden sunshine, the rolling hills, and the laid-back lifestyle that just speaks to my soul. I have always felt drawn to this magical place, and I have dreamed of exploring it in depth. When the opportunity presented itself to work remotely, I jumped at the chance to spend an extended amount of time in California. I knew that this was my chance to fully immerse myself in the culture and the landscape, and I was determined to make it happen. The only challenge was figuring out how to pay for it.
An innovative way to travel for less.
I remembered talking to a friend about my perfectly healthy and normal obsession with California and my desire to find a way to affordably travel there despite its high cost of living. My friend suggested that I consider home exchange as an option. Home exchange is a way for individuals or families to exchange their homes with others, either at the same time or at different times. This can be a cost-effective way to travel, as it allows you to save on accommodation expenses by staying in someone else's home. 
There are many sites, such as HomeExchange or Love Home Swap that offer exchange services for an annual membership fee. Through these organizations, you can search for available homes to exchange and make arrangements with the owners. It's important to carefully read and understand the terms and conditions of the home exchange organization you are using, as well as any additional agreements you may need to make with the other party. It's always a good idea to communicate with the other party beforehand to make sure you are both comfortable with the arrangements.
After racking up exchange points throughout the year, I conducted a thorough search and discovered a home in the Los Angeles area that is available for the month I wanted to travel. It was a charming 3 bedroom home in a neighborhood nestled between Beverly Hills and Miracle Mile. The owner was leaving her home for the month to travel to Europe. The exchange even included the use of her Toyota Prius! I  had a Facetime call with the owner and used my credit card miles to book our flights and then after that, we were ready to embark on our adventure in California!
Sunny Skies and Endless Possibilities: Welcome to LA!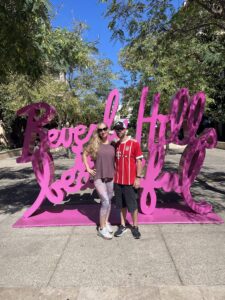 Our trip to LA was both magical and memorable. Despite the fact that my clients and business are on East Coast time, I didn't have to get up too early to catch up on work or attend to phone calls and emails. As a result of the time difference, by the time the business day ended on the East Coast, it was still mid-afternoon in California, giving us ample time to take advantage of the beautiful sunshine and the sights. We were also fortunate enough to be able to switch my daughter's music lessons to the School of Rock in Fairfax, Los Angeles. Continuing her music lessons in a new location helped to provide a sense of consistency for my daughter while also allowing her to experience new surroundings and make new friends.
One of the best things about Los Angeles is the abundance of places to hike and explore the great outdoors. From the sandy beaches and rugged cliffs off the Pacific coast to the trails winding through the Santa Monica Mountains and the Angeles National Forest, there is no shortage of breathtaking natural beauty to discover.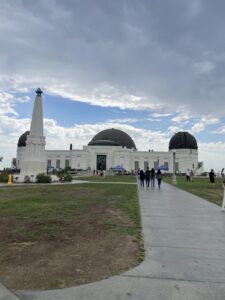 Some of the most popular hiking destinations in LA include Griffith Park, Runyon Canyon, and the Hollywood Sign, each offering unique and picturesque views of the city. And we hiked them all!  I learned that whether you're a seasoned hiker or just looking for a scenic walk, LA has something for everyone.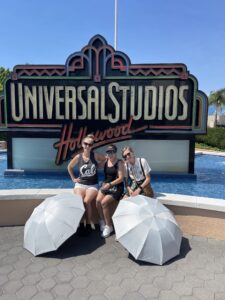 The money we saved in lodging enabled us to budget to explore the area including Disney's California Adventure, Universal Studios, The Getty Museum, The Magic Castle, and Catalina Island.
Traffic in Tinseltown: The Downside of LA
Oh Los Angeles, how we love your sunny skies and celebrity sightings, but let's be real, the traffic is the bane of our existence.
It's like a never-ending game of Tetris on the roads, with cars constantly shifting and weaving to try and find an open lane that doesn't exist.
And don't even get us started on the 405! It's enough to drive a person (pun intended) crazy. We did our best to plan our outings with the help of Waze, but ultimately the traffic was inevitable. 
Homelessness in Los Angeles: A Continuing Crisis
The homeless problem in Los Angeles is a deeply concerning and complex issue. It is heart-wrenching to see so many people living on the streets, struggling to find shelter and basic necessities. Many of these individuals have faced challenges such as mental illness, addiction, and economic hardship that have led them to this point. My time there really reinforced that every person deserves to have a safe and dignified place to call home.
After spending 35 days in Los Angeles, I was not ready to leave California.
I still had some points left, so I decided to take a chance and reached out to a homeowner in San Francisco to see if we could spend some time there.  I found a 3 bedroom classic San Francisco flat in Marina district that was available for 6 days. 
It was meant to be. Cut to: Me switching our flights and away we go!
San Francisco Chronicles: A Fun-Filled Adventure in the City by the Bay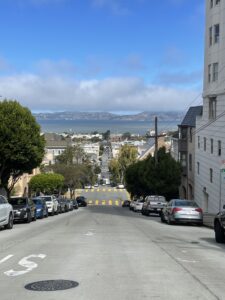 The flat was located just one block away from the water, across from Fort Mason, with direct views of the Golden Gate Bridge and Marian Green. Just three blocks from Ghirardelli Square and the beginning of Fisherman's Wharf. It also included private, in-garage parking. For this trip, we decided to rent a car so we could explore the surrounding area.
We ended up visiting Muir Woods, Half-Moon Bay, and Napa Valley.  Locally, there are excellent public transportation options within a few block walk, including the bus, trolley, and the famous SF Cable car.  We opted for the cable car ended up spending time in Japantown, Chinatown, and The Palace of Fine Arts.
We even checked out the Stranger Things Experience, but my all-time favorite was the Japanese Tea Garden at Golden Gate Park.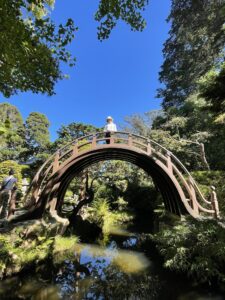 The Japanese Tea Garden, located in Golden Gate Park, is a breathtaking and calming oasis. It is the oldest of its kind in the United States and boasts a beautiful setting on the eastern side of the park. Visitors can escape the hustle and bustle of the city and find serenity among the various gardens fountains, bridges, and architectural structures. The soothing sounds and fragrances of the garden invite contemplation and relaxation. It is a truly stunning place to visit.
Needless to say, my 41-day stay in California was a fantastic blend of work and play thanks to the concept of bleisure travel.
By incorporating vacation and business, I was able to fully experience the beauty and culture of California while still being productive in my business obligations. Not only was this a great way to enjoy my time in the Golden State, but it also helped me return home feeling refreshed and rejuvenated. If you have the opportunity to bleisure, I highly recommend giving it a try. It's a win-win situation that allows you to make the most of your time away from home.